In this Level 2 Advanced Raw Vegan Culinary Training, you learn to prepare and serve exquisite meals from the comfort of your own home. Whether you want to advance in your professional culinary career or learn how to create healthy, healing gourmet dishes for your family and friends, this program will open your mind to a new and exciting way to prepare food. You will cover advanced techniques truly entertaining dishes, along with the science of flavor balancing and recipe development.
You can complete the training on your own time in as little as 3 months or at a pace that's right for you. Upon completing the course you have the option to receive your Certificate of Completion (see criteria below) or pursue a Professional Certification by completing other advanced culinary techniques under the guidance of Elaina Love (See details below).

Become immersed in a fun and interactive culinary arts experience that is based on 20+ years of healing experience and developing allergy free, low glycemic recipes!
---
Course Synopsis
Essential Culinary Instructional Videos

These fundamental lessons are crucial for obtaining the knowledge needed to become the best plant-based chef on the planet.
Culinary Arts Knife Skills
Advanced Dehydration Techniques
Stocking your plant-based pantry
All about sweeteners and how to use them in raw food recipes (low glycemic education)
All about thickeners and how to use them in raw food recipes
How to make your own nut butters
How to purchase and open coconuts
---
Essential Nutrition Education
Supplements and Superfoods
Food Combining 101
Importance of buying organic
Cleansing 101
---
Advanced Essential Instructor Instructional Lessons
How to successfully teach your own recipe demonstration
Step-by-step demo set up materials
Teach your own 15-minute demo! As part of your Professional Certification, you will be submitting your own recipe demo video (choose from 1 of the recipes in this course)
---
Advanced Breads, Savory Pastries, Crackers and Roll
In this module you will learn a wide range of techniques for making delicious and satisfying grain-free alternative bread recipes.
Italian Bread Loaf
Savory Pastry Crust
Pizza
Calzones
Spinach Mushroom Quiche
Veggie Wraps for Cannelloni, Pot Stickers and Samosas
Coconut Wraps and Turmeric Coconut Wraps
Onion Herb Breadsticks or Pretzels
Bagels
Buckwheat Pita Chips
Un-Corn Tortillas or Taco Shells
---
Advanced Pastries and Desserts
Learn how to make scones, cakes, pies, custards, frostings and more to satisfy any sweet tooth. There is something for everyone and the best part is they are actually nourishing and healthy (diabetic friendly). These delicacies are perfect for any brunch or weekend breakfast and can be stored or frozen for a rainy day. Perfect for a cafe menu.
Blueberry Scones
Cinnamon Rolls
Jelly Rolls
Chocolate Danish
Chocolate Cream Pie
Chocolate Syrup or Ganache
Bavarian Cream Donut Filling or Pie Topping
Lemon Raspberry Wedding Cake (or Birthday)
Raspberry Jam
Butter Cream Cake Frosting
Honey "Butter"
Medicinal Mushroom Cappuccino Elixir
---
Grain-Free Noodles
Spiralize your way to healthier meals. Learn to make healthy and satisfying noodles that are free from all things wheat and starch!
Zucchini Noodles
Beet Noodles
Kelp Noodles
Carrot Noodles
Italian Pasta Noodles
Asian Seaweed Noodle Salad
Warm Coconut Curry Noodle Bowl
---
Asian Foods
Take a seat and prepare for a world of flavors with exciting ingredients and a variety of cuisines, including Chinese, Indian, and Thai dishes.

Vegetable Noodles
Coconut Curry Asian Bowl
Asian Noodle-Seaweed Salad
Chinese "Fried" Rice
Pot Sticker/Veggie Gyoza
Wraps for Gyoza
Hoisin Dipping Sauce
Fresh Spring Rolls
---
What our students are saying about our Asian Noodle-Seaweed Salad
"YUM YUM YUM! I absolutely LOVE the flavour in this salad! I made it with wakame and it was so delicious! I used black sesame seeds and I really like the colour it brought to it, it allowed all the other colours to pop. I used sesame oil and cayenne powder. I really did not enjoy preparing the wakame though, the texture through me off. I like seaweed chopped up, but not in long strips of yuckiness! Next time I will probably just add flaked seaweed to the salad, and kelp noodles instead, I love kelp noodles. I love how all of your recipes give options, it is great for picky people like myself!"
---
Italian Cuisine
Learn delicious, gluten-free and plant-based Italian cuisine that are rich in flavor, texture and comfort. Wow your loved ones with authentic flavors of real Italian delights using plant-based culinary techniques.
Cannelloni Wraps
Cannelloni Filling

"Cheese" Sauce
Red Sauce
Spinach
"Sausage"

Pizza Crust and Toppings
Calzones
Lasagna
Pasta Pomodoro
Lasagna review: "First, it was intimidating, especially due to different techniques and maybe the time it suggested it will take to make it, but at last, I overcame the "fear" and was very happy about it. I loved the outcome: marinara sauce, ricotta cheese, all the veggies tasted great together. To describe the taste: creamy on top and in between the layers, and great crunchy texture of the vegetables due to techniques used. As a whole: simply delicious."
---
BONUS: Cultured and Fermented Foods
Learn how to master fermentation techniques (culturing) like a pro with this comprehensive and easy to follow video series. Learn all the basics to 'culturing' your own sauerkraut, nut and seed cheeses, coconut yogurt and more!
Coconut Kefir
Coconut Yogurt
Cultured Nut/Seed Cheese
Feta "Cheese"
Parmesan "Cheese"
Herb "Cheese"
Garlic Dill Sauerkraut with Caraway
---
Overview and Extras
Work at Your Own Pace or With a Pure Joy Academy Instructor
As part of the Certification process the Pure Joy Team provides guidance and feedback as you learn. The Professional Certification Program allows you to work on your own or have access to live chat anytime Monday to Friday 9-5pm MST.
Learning How to Shop
What are the best ingredients and where to shop for them? Learn how to outfit your kitchen like a pro with the top-rated culinary tools and ingredients. You will gain access to our favorite brands and ingredients so you can feel confident you will get the best out of your recipes.
Join our Pure Joy Family!
Once you complete your Professional Certification, Pure Joy Academy offers job opportunities working with our alumni or in our production facility or as an independent instructor teaching classes in your own home town. Let's spread the health and pure joy message together!

As a Certified Pure Joy Chef, you will be part of our Pure Joy Alumni database. This exclusive group provides an amazing opportunity to network and connect with others in this exciting culinary field. We have graduates from around the world who actively ask questions and post job opportunities. Elaina Love and the Pure Joy Academy Team are available daily to answer questions at anytime. As a graduate, you will also be invited to our exclusive Pure Joy Alumni Summer Retreats!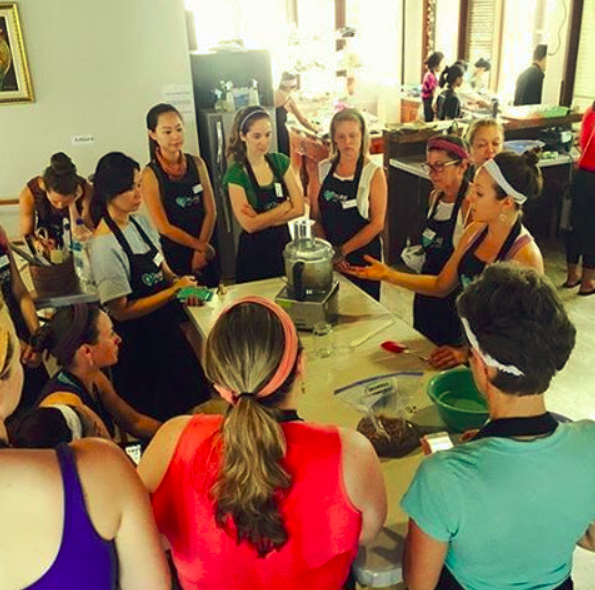 ---